When we are overwhelmed, we tend to focus on the parts that feel outside of our control.  With mindful intention we can bring our focus towards addressing the things we can control, and making meaningful change that allows us to live the life we want to live. I provide online mental health counseling that fits into your busy schedule.  Join telehealth appointments from your smart device or computer and participate in therapy from where ever you would like!  I am a Licensed Professional Counselor who is focused on bringing awareness to your needs and helping you address them.  I look forward to the opportunity to be your counselor and I am confident that we can work together in achieving your goals.
Virtual Mental Health Counseling
Through the Simple Practice Client Portal, we are able to meet for our individual sessions safely and securely in compliance with HIPAA Regulations on a secure platform that provides client confidentiality. Participate in counseling from the comfort of your own home!
Click on our services on the right to learn more.
Additional Areas of Focus
Boundary Setting

Life Changes/Adjustment

Depression

Anxiety

Relationship Issues

Trauma

Self-Esteem

Stress

Need for Improved Motivation

Work/Life Balance
Impact of Challenging/Traumatic Life Events
When something difficult happens we may think that once it's over, it's over. Right? As the dust settles, we can recognize that the life we were leading does not feel quite the same as it did before. Close relationships feel distant, familiar places feel foreign, and the happiness we felt before is missing in action. Rather than trying to fit a square peg into a round hole, we can work to recognize the change that exists and embrace our new reality.
Adjustment and Transition
Getting older, leveling up, starting or ending relationships, navigating work/career identities…the list of possible transitions in life is endless. As we live our lives, changes come rolling in and they can be hard to process. Rather than allowing those racing thoughts to bounce around your head, let's unpack feelings of anxiety and stress together. We will find meaning behind your thoughts and introduce clarity by developing coping strategies.
Focus on Me
In childhood, we are encouraged to share but we are told focusing on ourselves is "selfish". Some of us are taught to neglect ourselves in order to gain approval, love, or validation. As we become adults we become more aware of our own needs, and we learn it is critical that we have a strong sense of self. When it comes to our boundaries, decision making, and physical and behavioral health we need to shift our focus towards reclaiming ourselves! If we can recognize the barriers to our wellness, we can address them in a way that is beneficial us.
Self-Compassion
When a loved one asks for help do you say things like, "you really messed up this time", "I can't believe you did this to yourself", or "this will never get better.  You're stuck"?
Then why say that to yourself?
Self-compassion is focused on becoming aware of that ineffective script you tell yourself when things aren't going your way, and replacing it with the kind, supportive script you deserve.  We are capable of  positive and meaningful change.  It helps when we think that way about ourselves.
Cognitive Behavior Therapy
              Thoughts -> Mood -> Behavior
These connections can dictate how we show up in the world.  If we are optimistic, we feel good, and then we shine brightly in our lives.  If we think we have no shot at being happy, we feel miserable, and may opt to sit at home rather than go out and try.
We have the ability to change the way we think about our current circumstance, and it can make all the difference in how we make progress towards our goals.
Dialectical Behavior Therapy
Some things in our lives really bring out some intense emotions in us.  This leads to us being more reactive, anxious, or even depressed.

We tend to get into trouble when we are thinking about the past or our potential future, which removes us from the present.
These skills focus on addressing our needs in the here and now, sharing them effectively with others, and approaching our obstacles with mindfulness so we can bring about some relief.
In-Network (INN) Insurance Fees
Virginia Insurances Accepted:
Aetna, BCBS Anthem, BCBS CareFirst, Oxford, Oscar Health, United Health Care
Copay amount confirmed prior to first session.

Insurance information submitted prior to first session.

If you're unsure if your plan will be accepted, feel free to reach out and we can determine this together!
New York Insurances Accepted:
Aetna, Empire Blue Cross Blue Shield, Cigna, Oxford, Oscar Health, United Health Care
Copay amount confirmed prior to first session.

Insurance information submitted prior to first session.

If you're unsure if your plan will be accepted, feel free to reach out and we can determine this together!
Out-of-Network(OON)/ Private Pay
15 Minute Consultation Call
For New/Potential Clients
Discuss needs in counseling

Please call or email to schedule

Answer questions about the counseling process, billing, etc.
50 Minute Session
For New/Existing Clients
Session Focused on Identified Goals

Immediate Booking Available

Superbill provided to submit to insurance for partial or full reimbursement of session
30 Minute Session
For New/Existing Clients
Session Focused on Identified Goals

Immediate Booking Available

Superbill provided to submit to insurance for partial or full reimbursement of session
Fee Details
Payment is due at time of service.
Clients are expected to complete a credit card authorization in the client portal prior to beginning treatment. If there is some other way you would like to pay and do not wish to use a credit card, please discuss this during your initial consultation. Your credit card information is stored securely, and payment will be processed at the time of service. You may cancel your credit card authorization at any time by contacting us. This authorization will remain in effect until cancelled.
About Me
My philosophy in counseling is for you, the client, to have the ability to direct the course of treatment and make decisions that you feel are most beneficial to you.  While some practitioners believe that counseling and healing must be a lifelong pursuit, many of my clients report finding lasting changes as a result of short term treatment.  I am accepting of what brings you into this moment and how you choose to spend this time.  My hope is to be an ally in this journey and help you make a meaningful change in your life.
As my career has progressed over the last fifteen years working in the helping field, I have recognized the importance of continuing to grow and learn to better serve my clients. I actively pursue additional training, certifications, and continuing education opportunities in my free time. I feel fortunate that I have found a career that I sincerely enjoy and can continue to grow within.  
Outside of work I enjoy spending time with my two sons and my dog Emerson. You can find me cooking a new recipe in the kitchen, hiking with my friends and family, rooting for the New York Giants, bowling, or rewatching The Office or Parks and Recreation.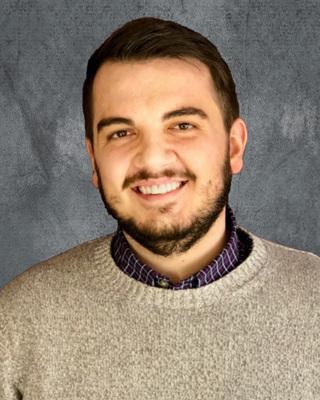 Kevin Roche, LPC
Owner of Finding Forward, PLLC
Licesned Professional Counselor (VA License)
Licensed Mental Health Counseling (NY License)
Virginia State License # 0701010208
New York State License # 009382
Education: St. John Fisher College Rochester, NY
Degree: Master of Science (M.S.) Mental Health Counseling
He's always there for someone to talk to about life or whatever I have going on at the time. Kevin is very kind and genuine. Kevin is extremely caring and compassionate. He's highly motivated to assist you to become the best you.
I highly recommend Kevin as a therapist and for those looking to make changes in themselves or feel stuck in a bad place. Kevin was always attentive and sensitive in listening to my feelings and experiences. I felt acknowledged and validated.
I knew I needed to have those tough conversations that I kept putting off. Kevin was able to help me through that and I am very happy to be working with him.
Kevin was kind, compassionate, and an excellent listener. He asked great questions and really made me think and reflect on the situation at hand. I always felt he was insightful and extremely professional.
His friendly, welcoming demeanor and sense of humor made me extremely comfortable with sharing my feelings and struggles. I would highly recommend Kevin for mental health counseling.
Therapy FAQs
If this is your first time in therapy, congratulations! This is an exciting step in focusing on your wellness and addressing your needs.
Click on the questions on the right to expand the answers.
If you have any more questions, reach out on the form below.
What should I expect?
Our first session will include completing intake paperwork and discussing a treatment plan for what you would like to work on. Following this session we begin to focus on your treatment plan and the direction you would like to take your therapy in.
When can I expect to feel better and to not need therapy anymore?
This is not a question I can answer, this is a decision that you can make when you are ready. Some people see therapy as a lifelong tool they use to feel well while others find short term therapy is more of their style. This is your decision to make and I will fully support your plan.
Do you accept my insurance?
In Virginia, I currently accept Blue Cross Blue Shield(BCBS) CareFirst, BCBS Anthem, United Health Care, Oxford, and Oscar Health Insurance plans.
In New York, I currently accept United Health Care, Cigna, Aetna, Oscar Health, and Oxford Insurance plans.
What if you do not accept my insurance?
We can still meet, and I will issue you a form called a "Super Bill" that you can submit to your insurance company for partial or potentially full reimbursement of your payment.
The cost per session is listed above in the Fees section of the website.
What if I want to use my Out of Network (OON) benefits to meet with you?
I would encourage you to reach out to your insurance company to see if you can be either partially or fully reimbursed for the cost of sessions.

Here are some questions you could ask your insurance company when you speak with them about using our OON benefits:
What is my

out-of-network

deductible? …

How much of my

out-of-network

deductible has already been met?

What is my policy period? …

What is my coinsurance? …

How do I submit for

reimbursement

?

How long do I have to submit my superbill?
I will gladly go over any of this with you in our initial consultation if needed.
Office
Virtual Office Headquartered in Virginia
Hours
Monday                     8 AM – 2 PM
                                    5 PM – 7 PM
Tuesday                     8 AM – 2 PM
Wednesday               8AM – 2 PM
                                    5 PM – 7 PM
Thursday                   8 AM – 2 PM
Friday                         8 AM – 2 PM